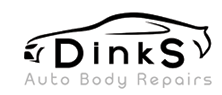 New Business Prospects

FRM Automotive have taken over the Peterborough Body Repair garage as part of its recent expansion plans. We've have rebranded the garage to be called "Dinks". At Dinks, the Peterborough body repair garage, we can provide a wide array of services ranging from Alloy Refurbishment to Car Body repair, if you are looking for high quality servicing to your vehicle and are looking to get it done at an affordable price, pop into your local Peterborough body repair shop for a no-obligation chat about how we can help you.

The Staff at Dinks Auto Body Repair Garage – Peterborough


All our staff are fully trained to deal with any body repair requests you may have and we ensure that our team is kept up to date with the latest developments. We are able to maintain the highest levels of training for all of our team. Our team has vast amounts of skills which enable us to perform body repair to all makes and models of vehicles. No job is too big or small.
If you'd like to know more or have any questions about Dinks Auto Body Repair garage in Peterborough, then head over to the dedicated site where you will find all the information you need. If you can't find the information you are looking for on the site, then give us a call on 01733 687101.