Wiper Blades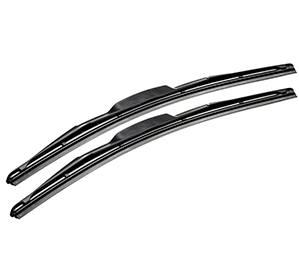 Visibility tips from the experts
The safety of you and your passengers depends on maintaining proper visibility at all times. Let's face it, you can't avoid danger on the road if you don't see it coming. Research shows that some drivers wait up to three years, or until they can't see through the windshield, before changing their wiper blades. This hazardous practice can put your family in peril if you get stuck unprepared in a sudden downpour.
Wet pavement also increases braking distance, giving you less time to react to danger on the road. A clear windshield is imperative in these conditions. The sooner you see the hazard, the more time you have to react, stop and avoid an accident. Play it safe. Be ready for any weather, any time with proper wiper blade maintenance.
Recommended Wiper Blade Maintenance
To ensure safety and optimum visibility throughout the year, note these helpful maintenance tips.
Chattering or streaking wipers indicate that replacement is necessary
Always replace wipers in pairs
Replace wipers at least every six months or as needed
Rain or Shine, Weather Affects Wiper Blades
Everyone knows that winter weather is tough on wipers. However, surprising to most, sunny weather causes wipers to deteriorate too. Heat and infrequent use can cause wipers to crack and become brittle. Even road chemicals, airborne pollutants and ozone can cause deteriorating. So, whether you live where the snow falls, or in a desert state, be sure to regularly inspect your wipers.
Don't Forget the Rear Wiper!

Rear wipers can deteriorate just as quickly as the front wiper and just as important in being able to see the road clearly. If your vehicle is equipped with a rear wiper, be sure to replace it regularly along with your front wiper blades.